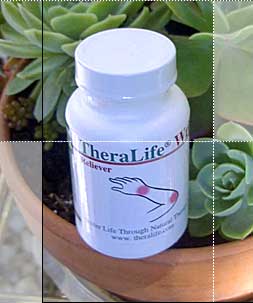 TheraLife
®
Wrist
TheraLife® Wrist is an herbal-based product that can help provide support for sore and aching muscles, joints, and tendons. TheraLife Wrist helps alleviate aches and discomfort in the wrist and elbow that may be caused by overuse or minor injuries, conditions often experienced by athletes and computer users. This blend of herbal extracts, vitamins and minerals helps relieve soreness and numbness, promotes improved circulation, helps support healthy soft tissue and flexibility, and aids in rebuilding and strengthening wrist and elbow muscles and tendons.
So, whether your wrist and elbow aches and discomforts are a result of strenuous usage or simply from every day wear and tear, TheraLife Wrist can help you.
"After using TheraLife Wrist, I did not have the tension and shooting pains from my thumb to my elbow.
-KL Union City, CA
Success
Supplement Facts
Key Ingredients
Carpal Tunnel Syndrome:
This is a common injury due to constriction at the carpal tunnel causing pain and inflammation. Typically, a wrist splinter is worn to keep the wrist in a stable position for the injuries to heal. Sometimes, it is necessary to perform surgery to open up the carpal tunnel in order to relief symptoms. Learn more
Benefits of TheraLife Wrist
Helps reduce the aches and discomfort in joints and muscles that may be caused by excessive use or minor injuries
Helps promote healthy soft tissue, circulation, and flexibility
Useful for athletes and computer users for sore and tired muscles and joints
100% satisfaction guaranteed - 30 day money back guarantee
Clinical Use: computer over use, repetitive motion injury,
Ingredients
Serving Size: 2 capsules - Capsules per container: 24 capsules
Supplement Facts
Amount Per Serving
%RDA
Ascorbic Acid
200mg
167%
Vitamin B-6
67mg
3,350%
Vitamin E
34IU
228%
Beta-Carotene
5,000IU
200%
Niacin
17mg
168%
Quercetin
17mg
*
Vitamin B-5
8.4mg
168%
Riboflavin
8.4mg
988%
Thiamin
8.4mg
1,120%
Zinc
5mg
68%
Selenium
68mcg
196%
Proprietary herbal blend Astragalus, Ledbouriella,Cinnamomun, Dangqui, Corydalis Yanhusuo
934mg
*
Other Ingredients: magnesium stearate
* RDA not established
Key Ingredients
Key Ingredients
Astragalus
Known for enhancing healing and immune-regulatiing properties, research has shown its usefulness as a supportive tool for a variety of chronic immune problems
Beta-Carotene
An antioxidant that can be converted into Vitamin A, which is crucial for healthy eyes, bones, hair and skin
Cinnamomum
Cinnamomum helps reduce swelling in joints and muscles
Corydalis Yanhusuo
This herb helps improve circulation
Dangqui
One of the most widely used herbs to help relieve muscle aches and cramps
Ledbouriella
This root has been shown to aid in relieving joint stiffness and discomforts
Similar TheraLife
®

Products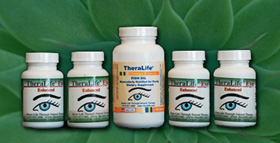 Sign up for the TheraLife
®

Newsltter and Get 9 Tips For Dry Eye Relief