TheraLife® Eye Autoimmune – For Autoimmune Disease Dry Eyes
A unique proprietary formula offering sustainable, lasting relief for dry eyes, dry mouth, joint pain, fatigue, and more.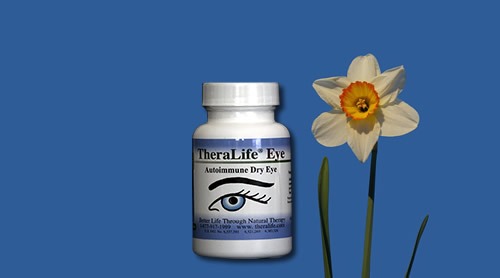 Who It Works For
Our special formula works for people with autoimmune disease dry eyes, caused by disorders such as:
Sjogren's Syndrome
Rheumatoid Arthritis
Lupus
Graves' Disease
Ocular Rosacea
Raynaud's
Fibromyalgia
Graft versus Host
 Autoimmune conditions
This formula restores normal cell functions to tear secretion glands and salivary glands, and it regulates the immune system to reduce flare-ups. Our autoimmune disease dry eyes formula is fortified with: immuno-modulators to help modulate and normalize the immune system; anti-inflammatory agents to reduce irritation and inflammation of the eye, salivary glands, eyelids, and joints; and anti-fatigue agents to improve oxygen delivery and boost energy. For first time users, we highly recommend our TheraLife® Eye Autoimmune Bundle, which includes molecularly distilled TheraLife® Omega 3 Fish Oil (included for its strong anti-inflammatory and anti-oxidation properties) and TheraLife® Fatigue  (designed to transport more nutrients and oxygen to your body in order to reduce fatigue, provide more energy, and promote healthy sleep). Learn More…
Quality
All TheraLife® ingredients are tested to ensure safety, purity and the highest biological activity. TheraLife® capsules are manufactured following GMP quality guidelines in pharmaceutical grade facilities in the United States.
90-Day Money Back Guarantee
TheraLife® Inc. offers a 90-day money back guarantee on all products.
Safe, All-Natural Ingredients.

Eye Autoimmune (2 capsules)
| | | |
| --- | --- | --- |
| Ingredient | Amount | RDA% |
| Beta-Carotene | 7.5mg | 250% |
| Vitamin E | 180IU | 600% |
| Ascorbic Acid | 200mg | 337% |
| Riboflavin | 10mg | 588% |
| Zinc | 27mg | 180% |
| Copper | 1mg | 50% |
| Selenium | 67mcg | 98% |
| Astralagus | 15mg | * |
| L-Carnitine | 100mg | * |
| Proprietary Herbal Blend** | 900mg | * |
* RDA not established
** Fructus Lycii, Bilberry, Chrysanthemum, Notoginsheng
Sjogrens Syndrome, Rheumatoid Arthritis, Joint Pain Relief

I have been diagnosed with Sjogrens syndrome for 5-6 years. The biggest miracle of all is my very painful right knee has improved. Last year the pain was so bad that I could barely walk, after taking the TheraLife Autoimmune for about 3 months for chronic dry eye, I began to notice that my knee felt better. Now I am close to walking normally. The knee improvement started after having taken TheraLife for 3 months. I was using a cane and now I don't need it, I am just amazed I was not expecting this wonderful added benefit. Thank you so much. *Note: Results may vary.*
P. H. Crestline, CA
Graves' Disease Dry Eyes
I am a 48 year old woman who was diagnosed with Graves Disease 5 years ago. Graves; disease tends to attack the thyroid gland as well as the eyes. My eye problem started about 4 years ago with severe dryness. I went to many doctors with NO Success!!! They only suggested I continue to put eye drops and ointments in my eyes. This actually exacerbated my problem. I became very desperate, and then found TheraLife on the internet. I found relief within a few weeks and have been on a dose of 2-4 pills ever since. I DO NOT use ANY eye drops or ointments anymore. The supplements totally keep my dry eye problem under control. Once in awhile, I need to take 6-8 capsules, but after a couple of weeks, I usually can go back to about 4. I am extremely happy and grateful for finding TheraLife. THANK YOU THERALIFE!!! *Note: Results may vary.*
M. S. San Antonio, TX
All-in-One Autoimmune Starter Kit
Contains everything you need to get started in treating autoimmune disease dry eyes related to conditions like Sjogren's syndrome, rheumatoid arthritis, ocular rosacea, Graves' disease, Raynaud's, lupus, bone marrow transplantation, graft versus host disease, and more.
All-in-One Autoimmune Starter Kit includes:
4 bottles of TheraLife® Eye Autoimmune
1 bottle of Omega-3 Fish Oil
1 package Eye Lid Cleanser
1 Hot Compress
TheraLife® especially recommends this starter kit to dry eye sufferers with autoimmune conditions because it includes all of the elements that are essential for getting lasting dry eye relief, collected for you into one conveniently packaged solution.
TheraLife® Eye Autoimmune Bundle
We highly recommend TheraLife® Eye Autoimmune plus TheraLife® Omega-3 Fish Oil and TheraLife Fatigue as a total solution for individuals who suffer from dry eyes related to autoimmune diseases. Discount prices available.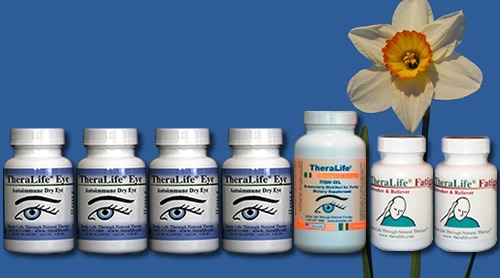 TheraLife® Eye Autoimmune Only
For customers who have their own fish oil or flax seed oil (vegetarian substitute), you may purchase TheraLife® Eye Autoimmune only. We recommend adding TheraLife® Fatigue (2 bottles) for a total autoimmune solution.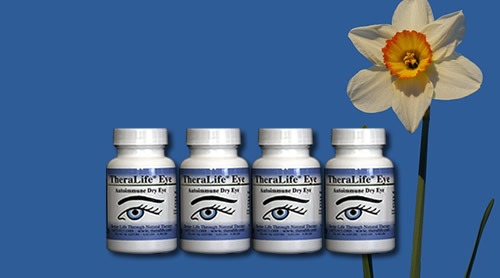 TheraLife® Eye Autoimmune Bundle Maintenance

For customers with already established tear film stability. Includes 4 bottles plus TheraLife® Fatigue (2 bottles).

TheraLife® Eye Autoimmune Only
Maintenance

For customers with already established tear film stability. Includes 2 bottles of TheraLife® Autoimmune.