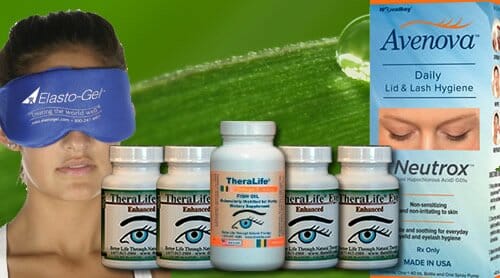 Light sensitive, Red, Blurry, Eye Pain, Headaches.
Puffy, Red, Sticky Eyelids
Glaucoma drops, Surgeries – Known To Cause Dry Eyes
Revive and Restore With TheraLife From Inside Out. 
Powerful Relief When Drops Don't Work.
Testimonial
"I had dry eyes before Glaucoma surgery in 2007. After Glaucoma surgery and drops, I was diagnosed with chronic dry eyes and blepharitis. My eyes were red, dry and painful. I tried many eye drops including prescription drop, antibiotic drops with no results. I started TheraLife Eye and can feel the difference in 2-3 weeks. I still cannot believe I have such total relief. I am so grateful for TheraLife."
-C.L, Ohio
*Results may vary
Call and talk to a doctor if TheraLife is right for you- 1-877-917-1989 US/Canada
Glaucoma and dry eyes are tightly linked.

 
One reason for this correlation is that the occurrence of both Glaucoma and dry eye increases with age. Another factor is the long-term use of pressure-lowering eye drops, many of which contain the preservative benzalkonium chloride (BAK). BAK is known to damage cells on the ocular surface, resulting in dry eyes. 
How Can You Tell If You Have Dry Eyes? 
Most people with Glaucoma often have these bothersome symptoms, but might not associate them with dry eye syndrome. Studies suggest that 40-50% of glaucoma patients have dry eye syndrome, and women are more likely than men.
These dry eye symptoms include but not limited to:
Headaches
red, irritated eyes, 
light sensitivity,
blurry vision, 
sticky eyelids ( blepharitis), 
Other causes of dry eyes are aging and glaucoma surgeries. 
 Why Treating Glaucoma/Dry Eyes are so Urgent?
Glaucoma is a leading cause of blindness for people over 60 years old. But blindness from Glaucoma can often be prevented with early treatment. When people do not recognize dry eye syndrome, this often leads to increased stress and frustrations. And yet the dry eye is so easy to treat. Just look to TheraLife for the most effective oral dry eye treatment that works. No more drops. 
Why Do You Get Glaucoma?
Glaucoma leads to damage of optical nervous from high intraocular pressure. So why do you have elevated intraocular pressure (IOP)? 
 It all hinges on blood circulation and compromised membrane permeability. There are various membranes and blood vessels inside your eyeball -e.g., the Bruckner's membrane, epiretinal member, which regulating fluid flow. Allowing excess fluid-carrying debris to exit the eyeball, and healthy blood supply and nutrients to enter the eyeball. When these membrane functions are compromised, fluid pressure builds up inside the eyeball, and optical nerve damage occurs. Prolonged high intraocular pressure results in blindness. The same reason applies to heart diseases, fragile blood vessels causing a stroke. 
Why TheraLife? 
TheraLife Eye Enhanced patented formula is targeted to improve micro-circulation, improving blood flow through improved membrane permeability to deliver nutrients to the eyes. 
Since it is an oral therapy, it also improves blood flow to other parts of your body besides your eyes. That is how the TheraLife Eye formula can help you reduce intraocular pressure. At the same time, TheraLIfe Eye is also providing the dry eye relief that is needed. To find out how TheraLife Eye works, learn more.
 TheraLife Eye is clinically proven to relieve dry eyes. Because of its function to improve micro-circulation, potentially, it will reduce eye pressure in the long run. For example, it is known to lower blood pressure, help carry debris out of the eyeball to improve macular degeneration.    
What Causes Dry Eye Syndrome?
Typically, many glands are involved in producing tears. The lacrimal glands produce the watery tears through openings in the upper eyelids. Meibomian glands in both the upper and lower eyelids behind the eyelashes produce the oily smooth outer layer of tears that stops the watery tears from evaporating.
Because most dry eye disease patients have eyes that don't make enough tears and lose their tears too quickly, treatment must address both issues. TheraLife restores all tear-producing glands, increase tear production, promote and revitalize meibomian oil glands, all at the same time.
Causes of dry eyes are from many different factors such as:
Inflammation of the eyelids – also called "Blepharitis."
Activities that reduce blinking such as prolonged reading or looking at a computer screen;
      Using glaucoma eye drops over a long time;
Low humidity, wind, or forced air heating and cooling systems;
Previous eye infections or previous eye surgery;
Autoimmune diseases such as rheumatoid arthritisand Sjogren's syndrome;
Medications such as antihistamines and antidepressants
Aging
Types of Glaucoma
There are two major types of Glaucoma.
Primary open-angle
Open-Angle is the most common type of Glaucoma. It happens gradually, where the eye does not drain fluid as well as it should. As a result, eye pressure builds and starts to damage the optic nerve. This type of Glaucoma is painless and causes no vision changes at first.
Some people can have optic nerves sensitive to even normal eye pressure, making getting Glaucoma a higher risk. Regular eye exams are essential to finding early signs of damage to their optic nerve.
Angle-closure (also called "closed-angle glaucoma" or "narrow-angle glaucoma")
This type happens when someone's iris is too close to the drainage angle in their eye. The iris blocks the drainage angle, and pressure rises quickly n- this is called an acute attack. It is a real eye emergency, and you should contact your ophthalmologist right away, or you might go blind.
Symptoms of Acute Angle Closure Glaucoma Attack- Emergency
Here are the signs of an acute angle-closure  attack:
Your vision is suddenly blurry
You have severe eye pain
You have a headache
You feel sick to your stomach (nausea)
You throw up (vomit)
You see rainbow-colored rings or halos around lights
Many people with angle-closure  develop it slowly. It is called chronic angle-closure Glaucoma. There are no symptoms at first, so they don't know they have it until the damage is severe or an attack.
Angle-closure Glaucoma can cause blindness if not treated right away.
Glaucoma Drugs And Side Effects
Their active ingredient classifies drugs to treat glaucoma.
These include:
o prostaglandin analogs,
o beta-blockers,
o alpha agonists,
o carbonic anhydrase inhibitors
o rho kinase inhibitors.
Also, combination drugs are available for patients who require more than one type of medication. The cholinergic agonists e.g., pilocarpine, are not commonly used now due to their side effects.
Types of Glaucoma Eye Drops
Prostaglandin analogs include Xalatan® (latanoprost), Lumigan® (bimatoprost), Travatan Z® (Travoprost), and Zioptan™ (tafluprost), and Vyzulta™ (latanoprostene bunod). They work by increasing the outflow of fluid from the eye. Their side effects are associated with changes to the eye, including a change in iris color and eyelashes' growth. The side effects depend on the individual. Latanoprost and some formulations of bimatoprost are now available in generic form. Tafluprost is a preservative-free prostaglandin analog.
Beta-blockers such as timolol are the second most often used class of medication and work by decreasing fluid production. They are available in generic form and, therefore, maybe less expensive. Timolol is also available in a preservative-free formulation. To minimize the side effects of beta-blockers, close the eyes following application, or using a punctal occlusion technique that prevents the drug from entering the tear drainage duct and systemic circulation.
Alpha agonists [Alphagan®P (brimonidine), Iopidine®] work to decrease fluid production and increase drainage. Alphagan P has a pure preservative that breaks down into natural tear components better for people who have allergic reactions to preservatives in other eye drops. Alphagan is available in a generic form.
Carbonic anhydrase inhibitors (CAIs) reduce eye pressure by decreasing the production of intraocular fluid. They are available as eye drops [Trusopt® (dorzolamide), Azopt® (brinzolamide)] as well as pills [Diamox (acetazolamide) and Neptazane® (methazolamide)]. Except for brinzolamide, all CAIs are available in generic form.
Rho kinase inhibitors [Rhopressa® (netarsudil)] increase the drainage of intraocular fluid.
This new class of glaucoma drugs has been available since April 2018.
Combined medications can offer an alternative for patients who need more than one type of medication. There may also be a financial advantage, depending on your insurance plan. Cosopt® is a combination of a beta-blocker (timolol) and a carbonic anhydrase inhibitor (dorzolamide) and is available in generic form and also as a preservative-free formulation (Cosopt® PF). Combigan® combines an alpha agonist (brimonidine) with a beta-blocker (timolol). Simbrinza® is a beta blocker-free combination medication consisting of brinzolamide and brimonidine.
Glaucoma Treatment Concerns. 
Compliance is essential for people with Glaucoma. The reasons why people with Glaucoma may not take their medications.
One reason is that they forget! Remembering to take a daily medication is one of the challenges in treating any chronic condition, including Glaucoma. To set timed reminders such as an alarm clock or cell phone will help.
A second factor in not taking medication as prescribed is economics. Glaucoma drugs can be expensive. Also, some medications may be covered by your insurance, while others are not. Work with you to recommend the best choice for you.
Another factor that influences the use of eye drops is side effects. Besides adverse reactions specific to the active ingredient, ocular surface irritation (conjunctival and corneal) can occur with any eye drop. This irritation can result in chronic dry eyes.
Laser Treatment
For patients who cannot tolerate medications or for whom remedy alone has not been adequate, laser treatment continues to be an excellent alternative. The laser may also be the primary treatment. The advantage of laser treatment is that if sufficient pressure lowering is achieved, delaying the need for taking a daily medication to avoid side effects.
The effect of laser treatment is typically not permanent, and many patients will eventually require medications. There are two common laser treatments for Glaucoma:  selective laser trabeculoplasty (SLT) and argon laser trabeculoplasty (ALT).
Laser Surgery Side Effects-
Side effects from Laser Surgeries for Glaucoma include:
Eye pain or redness.
      Eye pressurethat's still too high or even too low.
Loss of vision.
Infection.
Inflammation.
Bleeding in your eye.
Developing cataract.
Treatments for Glaucoma and Dry Eyes
Glaucoma treatment is always associated with chronic dry eyes. Therefore, treating the dry eye syndrome is vital both for the patient's comfort and for the long-term health of the eye's surface. But because Glaucoma can cause vision loss, when a patient has both dry eye syndrome and Glaucoma, the Glaucoma is usually treated first. Addressing the glaucoma treatment almost always takes precedence over treating the dry eye disease–even though the dry eye disease bothers the patient more.
Your eye doctor may recommend the following treatments for dry eyes.
Artificial tears, most often in the form of eye drops (gel and ointment forms are also available);
Eyelid cleansing and warm compresses to minimize inflammation;
Reducing tear evaporation with measures such as using a humidifier, avoiding air/wind blowing directly onto the eyes, and taking frequent breaks while reading;
Punctal plugs to block drainage through the tear ducts and conserve tears;
Doxycycline or other oral medications to further treat lid inflammation;
Cyclosporine and Lifitegrast medication drop that suppress inflammation; some doctors also use mild steroids to suppress inflammation. However, the use of steroids causes a steroid-induced rise in eye pressure.
Why Traditional Dry Eye Treatments Fail?
Dry eye symptoms persist with traditional dry eye treatment because the treatments are through the eye's surface, rather than internal.
TheraLife's approach is unique because we treat intra-cellularly from the inside out. TheraLIfe succeeds where eye drops fail.
Patients with Glaucoma and dry eye disease have a lot to handle. Like Glaucoma, dry eye is not curable but is manageable; the management of both requires a team effort of both the doctor and the patient.
The strongest Justification for TheraLife Eye capsules is that it targets all the eye's cell functions internally. The capsules are all-natural, suitable for vegans. So start your glaucoma/dry eye recovery today—no more eye drops.
References- Glaucoma and Dry Eyes
<!-- Google Code for Landing Pageview Conversion Page --> <script type="text/javascript"> /* <![CDATA[ */ var google_conversion_id = 1071730805; var google_conversion_language = "en"; var google_conversion_format = "3"; var google_conversion_color = "ffffff"; var google_conversion_label = "u6DjCKWrzWIQ9aCF_wM"; var google_remarketing_only = false; /* ]]> */ </script> <script type="text/javascript" src="//www.googleadservices.com/pagead/conversion.js"> </script> <noscript> <div style="display:inline;"> <img height="1" width="1" style="border-style:none;" alt="" src="//www.googleadservices.com/pagead/conversion/1071730805/?label=u6DjCKWrzWIQ9aCF_wM&guid=ON&script=0"/> </div> </noscript>