TheraLife® Eye Enhanced Only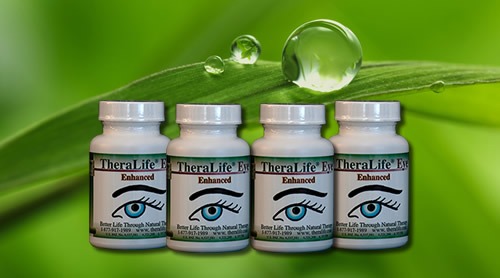 Powerful Dry Eye Relief That Works
TheraLife® Eye Enhanced only  – For those who has their own fish oil, hot compress and eyelid cleanser.
Our unique proprietary oral formula revive and restore your own tears for dry eye relief.
Retail $120 – 4 bottles of 60 capsules each.
For bundled discounts, see below.
Doctor recommended and clinically proven to provide dry eye relief for 80% of first-time users.
Why Does TheraLife Eye Work?
Restores your eye's ability to produce its natural tears for lasting dry eye relief.
Optimum formulation of nutrients, vitamins, minerals, and natural herbs.
Increase micro-circulation within the eye.
Revitalizes and strengthens the eye's capillaries.
Anti-inflammatory agents to reduce irritation and inflammation of the tear glands, eye surface and eyelids, and oil glands.
Clinically tested, proven to work for dry eye relief. No more drops.
How is TheraLife Eye different?
Theralife Eye differs from artificial tears and drops for dry eyes.
TheraLife Eye is an oral formulation that works from the inside out to target the root causes of dry eye. Unlike topical products like drops and artificial tears,
TheraLife Eye does not require frequent re-application throughout the day.
TheraLife Eye provides uninterrupted relief within 30-60 days.
Unique patented formula PURE OMEGA 3 FISH OIL to fight inflammation and provide lubrication to thicken tears
How It Works
Our unique proprietary and all-natural formula and is clinically proven to achieve chronic dry eye relief from the inside out through:
increasing intracellular metabolism (Mito-Activation),
membrane permeability,
blood micro-circulation.
These processes stimulate all the tear glands (meibomian, lacrimal, and goblet cells) to secrete their tears naturally and overcome issues for dry eye relief.
We simultaneously target the tri-fact of chronic dry eyes for optimized results: dry eyes, Blepharitis, and MGD.
TheraLIfe Eye capsules – revive and restore your tear production from the inside out.
Omega 3 fish oil- provides lubrication to thicken your tears and strong anti-inflammation.
Hot compress – to melt the clogging in your miebomian oil glands. 86% of people with dry eyes have meibomian gland dysfunction.
Avenova eyelid cleanser- to be used after a hot compress and gentle massage. Provide eyelid hygiene and prevent Blepharitis.
Theralife Omega 3 Fish Oil – 100% Pure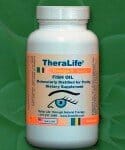 TheraLife's Omega 3 fish oil  is molecularly distilled for purity, effectiveness, and safety. It is 100% pure.
Unique formula PURE OMEGA 3 FISH OIL to fight inflammation and provide lubrication to thicken tears.
price $35/bottle of 100 gel caps. 1000mg/cap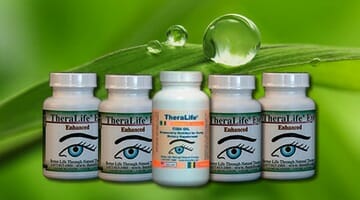 TheraLife Eye Bundle
Complete Dry Eye Relief-
4 bottles of TheraLife Eye + 1 Fish Oil –
$150 Retail, you pay $140- Save $10.
Why Fish Oil?
In fish oils, which can be found as supplements, omega-3s are mostly present as triglycerides. In processed fish oils, the refining process causes the triglycerides to convert to ethyl esters, allowing food chemists to adjust the concentrations of DHA and EPA.
Customer Success Stories
"I have had a dry eye for many years. TheraLife has eased the discomfort and stinging I experienced daily. The redness is gone.  I now have a social life. No more waking up wondering how my eyes will look.  Now I know they'll look refreshed and free of redness.

I've tried many other ways and paid thousands for treatments. TheraLife is the only thing that has indeed worked."
L.F.- United States * results may vary.
Clinical Study
completed a Phase IIb, six-site, double-blind, placebo-controlled clinical trial, in which it was demonstrated that TheraLife Eye provided significant improvement of dry eye syndrome when compared to a placebo. Data shows that TheraLife® Eye is successful at providing relief for 80% of first-time users. The TheraLife management team and scientific advisors represent the best of the best from the pharmaceutical, biopharmaceutical, alternative medicine and medical technology fields. The company has been granted three U.S. patents and has five additional patents pending.
Quality
All TheraLife ingredients are tested to ensure safety, purity and the highest biological activity. TheraLife® Eye Enhanced capsules are manufactured following GMP quality guidelines in pharmaceutical grade facilities in the United States.
TheraLife Eye Enhanced has been registered with the United States Food and Drug Administration (FDA) since 2000. The powerful dry eye formula is patented and underwent a Phase II clinical trial study.
90-Day Money Back Guarantee
TheraLife® knows how to cure dry eyes! TheraLife Inc. offers a 90-day money back guarantee on all products.
References
1. Craig JP, Nichols KK, Akpek EK, et al.. TFOS DEWS II definition and classification report. Ocul Surf 2017;15:276–83. 10.1016/j.jtos.2017.05.008 [PubMed] [CrossRef] [Google Scholar]
2. Farrand KF, Fridman M, Stillman Ipek Özer, et al.. Prevalence of diagnosed dry eye disease in the United States among adults aged 18 years and older. Am J Ophthalmol 2017;182:90–8. 10.1016/j.ajo.2017.06.033 [PubMed] [CrossRef] [Google Scholar]
3. Schiffman RM, Walt JG, Jacobsen G, et al.. Utility assessment among patients with dry eye disease. Ophthalmology 2003;110:1412–9. 10.1016/S0161-6420(03)00462-7 [PubMed] [CrossRef] [Google Scholar]
4. Miljanović B, Dana R, Sullivan DA, et al.. Impact of dry eye syndrome on vision-related quality of life. Am J Ophthalmol 2007;143:409–15. 10.1016/j.ajo.2006.11.060 [PMC free article] [PubMed] [CrossRef] [Google Scholar]
5. Galor A, Feuer W, Lee DJ, et al.. Depression, post-traumatic stress disorder, and dry eye syndrome: a study utilizing the National United States Veterans Affairs Administrative Database. Am J Ophthalmol 2012;154:340–6. 10.1016/j.ajo.2012.02.009 [PubMed] [CrossRef] [Google Scholar]
6. Yu J, Asche CV, Fairchild CJ. The economic burden of dry eye disease in the United States: a decision tree analysis. Cornea 2011;30:379–87. 10.1097/ICO.0b013e3181f7f363 [PubMed] [CrossRef] [Google Scholar]
7. Nichols KK, Bacharach J, Holland E, et al.. Impact of dry eye disease on work productivity, and patients' satisfaction with over-the-counter dry eye treatments. Invest Ophthalmol Vis Sci 2016;57:2975–82. 10.1167/iovs.16-19419 [PubMed] [CrossRef] [Google Scholar]
8. Mertzanis P, Abetz L, Rajagopalan K. The relative burden of dry eye in patients' lives: comparisons to a US normative sample. Invest Ophthalmol Vis Sci 2005;46:46–50. [PubMed] [Google Scholar]
9. Reddy P, Grad O, Rajagopalan K. The economic burden of dry eye: a conceptual framework and preliminary assessment. Cornea 2004;23:751–61. 10.1097/01.ico.0000134183.47687.75 [PubMed] [CrossRef] [Google Scholar]
10. McDonald M, Patel DA, Keith MS, et al.. Economic and humanistic burden of dry eye disease in Europe, North America, and Asia: a systematic literature review. Ocul Surf 2016;14:144–67. 10.1016/j.jtos.2015.11.002 [PubMed] [CrossRef] [Google Scholar]
11. Mulcahy AW, Whaley CM, Gizaw M. International prescription drug price comparisons: current empirical estimates and comparisons with previous studies. Santa Monica, CA: RAND Corporation PP, 2021. [Google Scholar]
12. Chen EM, Kombo N, Teng CC, et al.. Ophthalmic medication expenditures and out-of-pocket spending: an analysis of United States prescriptions from 2007 through 2016. Ophthalmology 2020;127:1292–302. 10.1016/j.ophtha.2020.04.037 [PMC free article] [PubMed] [CrossRef] [Google Scholar]
13. Holland EJ, Luchs J, Karpecki PM, et al.. Lifitegrast for the treatment of dry eye disease: results of a phase III, randomized, double-masked, placebo-controlled trial (OPUS-3). Ophthalmology 2017;124:53–60. 10.1016/j.ophtha.2016.09.025 [PubMed] [CrossRef] [Google Scholar]
14. Pan Q, Angelina A, Marrone M. Autologous serum eye drops for dry eye. Cochrane Database Syst Rev 2017;2:CD009327. 10.1002/14651858.CD009327.pub3 [PMC free article] [PubMed] [CrossRef] [Google Scholar]
15. Schaumberg DA, Sullivan DA, Buring JE, et al.. Prevalence of dry eye syndrome among US women. Am J Ophthalmol 2003;136:318–26. 10.1016/s0002-9394(03)00218-6 [PubMed] [CrossRef] [Google Scholar]
16. Shimmura S, Shimazaki J, Tsubota K. Results of a population-based questionnaire on the symptoms and lifestyles associated with dry eye. Cornea 1999;18:408–11. 10.1097/00003226-199907000-00003 [PubMed] [CrossRef] [Google Scholar]
17. Stapleton F, Alves M, Bunya VY, et al.. TFOS DEWS II epidemiology report. Ocul Surf 2017;15:334–65. 10.1016/j.jtos.2017.05.003 [PubMed] [CrossRef] [Google Scholar]
18. Wolfs RCW, Borger PH, Ramrattan RS. Changing views on open-angle glaucoma: definitions and prevalences — the Rotterdam study. Investig Ophthalmol Vis Sci 2000;41:3309–21. [PubMed] [Google Scholar]
19. Paulsen AJ, Cruickshanks KJ, Fischer ME, et al.. Dry eye in the beaver dam offspring study: prevalence, risk factors, and health-related quality of life. Am J Ophthalmol 2014;157:799–806. 10.1016/j.ajo.2013.12.023 [PMC free article] [PubMed] [CrossRef] [Google Scholar]
20. Uchino M, Dogru M, Uchino Y, et al.. Japan Ministry of health study on prevalence of dry eye disease among Japanese high school students. Am J Ophthalmol 2008;146:925–9. 10.1016/j.ajo.2008.06.030 [PubMed] [CrossRef] [Google Scholar