Dry Eye Syndrome
Dry eye syndrome occurs when the eyes lack moisture or when there isn't enough lubrication in the eye. The condition can also be called chronic dry eyes, and it can be a mild irritant or cause severe eye inflammation. In medical terms, dry eye syndrome is also known as keratoconjunctivitis sicca or keratitis sicca, both of which translate to mean a decrease in amount of tear production. When left untreated, prolonged cases of dry eyes can lead to serious complications, such as cornea damage and blindness.
Please use the links in the right sidebar to navigate to other sections of our site and learn more about dry eyes – or, if you are ready to purchase a solution now, we can offer you the following recommendation:
All-in-One Eye Enhanced Starter Kit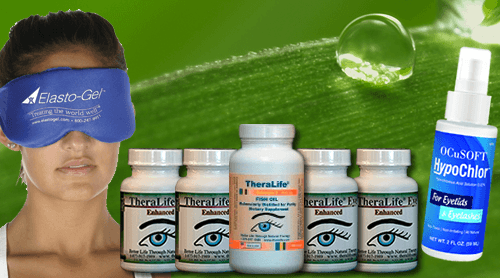 Original Price  $184.80, Discounted $170.00   ( Save $14.85.  or 8%)
Contains everything you need to get started in treating dry eye syndrome, blepharitis, and/or meibomian gland dysfunction (MGD).
All-in-One Starter Kit includes:
4 bottles of TheraLife® Eye Enhanced
1 bottle of Omega-3 Fish Oil
1 bottle Eye Lid Cleanser
1 Hot Compress
TheraLife® especially recommends this starter kit to Blepharitis/MGD dry eye sufferers because it includes all of the elements that are essential for getting lasting dry eye relief, collected for you into one conveniently packaged solution.