Who's At Risk for Sjogren's Syndrome?
The vast majority of people with Sjogren's syndrome are women, and it generally appears mostly in the 30's and 40's. However, Sjogren's syndrome can affect all age groups, and it can occur in all races. You may be at higher risk of developing Sjogren's syndrome if other members of your family had the condition. There is no way to prevent Sjogren's syndrome or reduce your risk of developing the condition.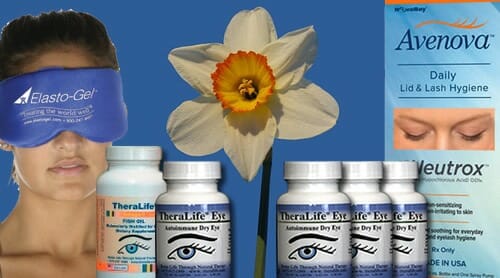 Everything you need to start treating chronic dry eyes, blepharitis, and meibomian gland dysfunction. The All-in-One Autoimmune Starter Kit offers: 4 bottles TheraLife® Eye Autoimmune, 1 bottle Omega-3 Fish Oil, 1 Avenova Eye Lid Cleanser, and 1 Hot Compress. For dry eyes from Sjogren's syndrome, rheumatoid arthritis, ocular rosacea, Graves' disease, Raynaud's, lupus, bone marrow transplantation, graft versus host disease, and more.