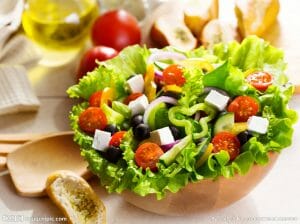 Can a person ease their dry eye symptoms just by eating certain foods?  In the publication Cornea, a study determined that people who were diagnosed with chronic dry eye and took GLA and Omega-3 experienced less dry eye symptoms and inflammation.  In addition, there have been several other studies that found zinc, potassium, and Vitamin A are beneficial to patients who suffer from dry eye disease.  Some recipes that include some of these vital nutrients are not only tasty but can help with dry eye relief. Check out these foods that help dry eyes:
Baked Kale Chips
Kale is full of beta-carotene and zinc.  Patients who suffer from dry eye syndrome should definitely include kale in their weekly diets.  Kale can be eaten in salad or as a tasty snack.  Kale chips are a great variation on the common use of kale.
Spread out many different pieces of kale on a large baking sheet.

Drizzle olive oil, lime juice, a dash of sea salt, and parmesan cheese over the kale.

Place pan in the oven and bake at 350 degrees until the kale is crispy (approximately 10-13 minutes).
Take pan out of the oven and place kale chips in a zipper bag or airtight container and enjoy.
Flourless Banana Pecan Pancakes
Eating one banana daily can help dry eye sufferers.  In fact, potassium deficiency is one reason that people experience dry eye.  For a gluten-free breakfast, try flourless banana pecan pancakes.
Mash one banana thoroughly.

Whisk one egg into a bowl.

Combine the banana, egg, a dash of vanilla, and ½ cup of chopped pecans into a bowl.

Over medium heat, place one Tbsp. of coconut oil into a skillet.

Place ¼ cup of the mixture onto the skillet for each pancake.  

Flip when the mixture begins to bubble slightly and forms brown edges.
Waldorf Salad
Full of antioxidants and omega-3's, Waldorf salad is not only a dry eye fighter, but a crowd pleaser as well.  Ingredients for this timeless side dish include:  romaine lettuce, spinach, toasted walnuts, celery, apple, raw honey, yogurt, lemon juice, and pepper.
Combine the romaine lettuce, a cup of spinach, a cup of toasted walnuts, ½ cup of celery (thinly sliced), and one apple (finely chopped) into a large serving bowl.

In a separate dish, whisk together one tsp. of raw honey, 3 Tbsp. of plain yogurt, two Tbsp. of fresh lemon juice, and pepper to taste.

Mix the ingredients together in the large bowl.

Place bowl in refrigerator overnight before serving.
Carrot & Beet Salad
Vitamin A is an essential nutrient to help protect the cornea.  Essential for sharp vision and a healthy tear film, a deficiency in this vitamin has been shown to cause and exacerbate dry eye syndrome.  The carrot and beet salad is full of beta-carotene and will help those who suffer from dry eye syndrome.
Mince ¼ cup of shallots and one clove of garlic together.

Add ¼ cup of vinegar, one Tbsp. soy sauce, and one cup of olive oil to the mix.

Puree all ingredients in a blender until mixture has a common consistency.

Shred four cups of carrots and four cups of peeled, raw beets into a bowl.

Combine this mixture with the dressing, tossing well to get consistent coverage.

Serve and enjoy.
Antioxidant Smoothie
Partly caused by oxidative stress, dry eye syndrome and the oxidation process can be slowed down by eating foods rich in antioxidants.  This healthful smoothie is full of antioxidants and will stop dry eye syndrome in its tracks.  Combine the following ingredients into a blender and enjoy this green drink that is not only low in sugar, but high in antioxidants to help relieve dry eye syndrome.
One cup of spinach

Two quartered kiwis

Juice of one lemon or lime

½ cup of plain yogurt

One cup of filtered water

One tsp of ground flaxseed
Turmeric Almond Milk
For those cold winter mornings, swap out the usual coffee drink for this hot beverage that not only warms you up, but helps to fight dry eyes.  Since this warm drink contains turmeric, the anti-inflammatory properties help reduce and treat dry eye syndrome.
Warm a cup of almond milk in a small pot

Sprinkle 1 Tbsp. of turmeric, ½ tsp cinnamon, 1/8 tsp of cloves, and a dollop of raw honey into the milk

Whisk ingredients with the milk as it warms to make a delicious way to fight dry syndrome naturally
How can TheraLife Help?  Use TheraLife Eye capsules when drops don't work.  It restores and revives your own tear functions for dry eye relief.  Your own tears, no more drops.  Visit –  https://www.theralife.com/eye-enhanced/
Call toll-free 1-877-917-1989 US/Canada.  International (650) 917-1989