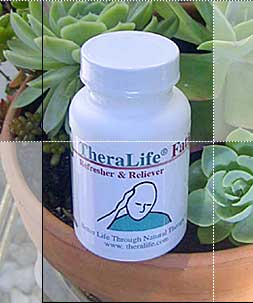 TheraLife
®
Fatigue
Do you suffer from sudden onset of dry eyes accompanied by menopausal symptoms such as hot flashes, night sweats, mood changes and more?
This formula is designed for natural hormone balance. It contains Black Cohosh plus soy isoflavones and essential nutrients like calcium, folic acid, B-vitamins to balance hormonal levels and relief symptoms of chronic dry eyes, reduce hot flashes, night sweats, and more. This natural formula has been used by women who are particularly concerned about synthetic hormones causing cancer.
Success
Ingredients
Testimonials
Benefits
Demonstrated Success
TheraLife® completed a Phase IIb, six-site, double-blind, placebo-controlled clinical trial involving TheraLife® Eye demonstrating significant improvement for dry eye syndrome relief versus placebo. Data indicates 80% success for first time users.
The TheraLife® management team and scientific advisors represent the best from pharmaceutical, biopharmaceuticals, alternative medicine and medical technology disciplines. The company has been granted three U.S. patents and has five additional patents pending.
Ingredients
All TheraLife® ingredients are tested to ensure safety, purity and the highest biological activity. TheraLife® capsules are manufactured following GMP quality guidelines in pharmaceutical grade facilities in the United States.
Ingredients
Fatigue
%RDA
Ascorbic Acid
60mg
100%
Vitamin E
50IU
166%
Quercetin
50mg
*
Vitamin B-6
30mg
1,500%
Thiamin
10mg
666%
Riboflavin
10mg
588%
Vitamin B-12
26mcg
434%
Selenium
0.2mg
286%
Proprietary herbal blend Pueraria Root, White Paeonia Root, Clematis Chinensis, Licorice Root, Bilberry, White Willow Bark, Ginger
1,366mg
*
Other Ingredients: magnesium stearate
* RDA not established
"TheraLife Eye and Fatigue formula really worked for me. I felt great. I liked it a lot."
-TN Fremont, CA
Extraordinary Benefits
All Natural products without the side effects of drugs
Lasting relief for chronic dry eye discomfort
Helps restore your eyes ability to produce its own natural tears
Clinically Proven
86% of patients in a Clinical Study showed increased tear production
More than fish oils or flax seed oils - unique, patented formulation of nutrients, phytochemicals, and proprietary herbal extracts that Improves ocular micro-circulation - to deliver more nutrients and oxygen to the eye while carrying out more harmful waste products
MitoActivation - to boost intracellular metabolism and restore normal cell function
Keeps your eyes healthier, stronger, and feeling younger
Revitalizes and strengthens the eye's tear secretion functions
Helps reduce irritation and inflammation of the tear glands, eye surface, and eyelids
Contains all the antioxidant ingredients in the National Eye Institutes Age Related Macular Degeneration Study (AREDS)
Safe, 100% pure, natural ingredients
100% satisfaction guaranteed
TheraLife Eye Optimized for systemic delivery of chronic dry eye relief.
Learn more about chronic dry eye syndrome!
Similar TheraLife
®

Products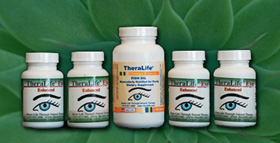 Sign up for the TheraLife
®

Newsltter and Get 9 Tips For Dry Eye Relief